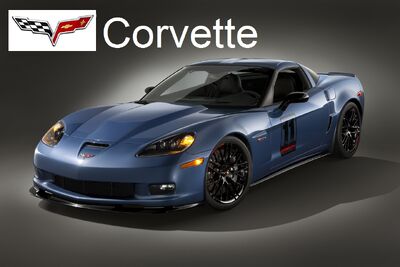 Short History
Edit
The Chevrolet Corvette is sports car produced by the Chevrolet division of General Motors. The first model was designed by Harley Earl and introduced at the GM Motorama in 1953. Myron Scott is credited for naming the car after the Corvette, a small, maneuverable warship. It has been produced in six generations in coupe, convertible and t-top coupe body styles. Originally built in Flint, Michigan and St. Louis, Missouri, the Corvette is currently built in Bowling Green, Kentucky and is the official sports car of the Commonwealth of Kentucky. The National Corvette Museum documents the car's worldwide history and hosts the annual "National Corvette Homecoming". The Auto Editors of Consumer Guide stated: "Plenty of sports cars would come and go over the course of the last five decades; the Corvette not only survived, but thrived, outlasting and out-pacing the competition." In 2003, the Corvette became the first and only American sports car to celebrate its 50th anniversary.
---
Corvette was born of the post-war sports-car boom, an optimistic time when nearly anything seemed possible, including the world's largest automaker building a two-seat "image" car. But despite the Corvette's initial impact as a sensational show car, the first production model was dismissed as more poseur than performer, and the so-called "plastic bathtub" was nearly axed from the Chevrolet lineup. Corvette came into its own, both on the road and at the racetrack, during the space-age Sixties. It flexed its muscle during the subsequently turbulent years of anti-war protests, political scandals, and civil unrest. It survived an onslaught of adversity throughout the Seventies. And while it welcomed the Eighties with its portfolio secure, the car's fortunes plummeted over the course of the ensuing decade.
Again turning the tide, Chevy's legendary sports car was reborn in the late Nineties as a technologically advanced performance machine for the new millennium, and it enjoyed a well-earned resurgence in popularity. Then, the Corvette engineers unleashed the C6, the most precise and refined Corvette yet. They soon topped themselves with the next-generation Z06, a 500-horsepower track-bred Corvette that upped performance to new heights.
Wallpapers
Edit